Building an adaptable brand
04 March 2021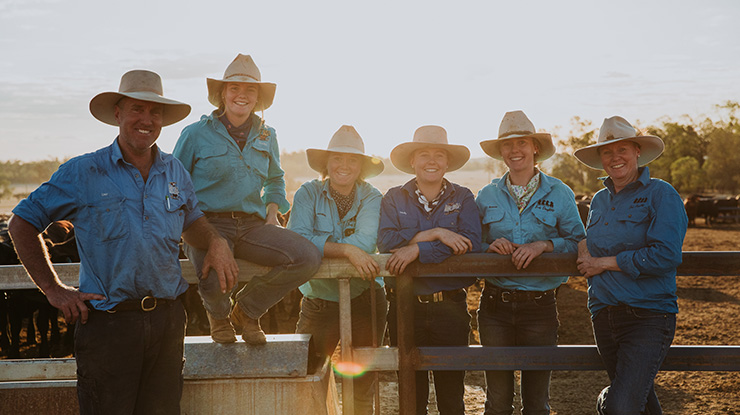 Dan and Karen Penfold and their daughters Bonnie, Molly, Jemima and Matilda. Image: Josh Kelly from Jack Harlem Photography
Rewind to March 2020 – when most Aussies were focused on 'flattening the curve' – red meat brand owners were also dealing with the curve ball COVID‑19 threw at the foodservice sector.
As the country went into lockdown, foodservice sales plummeted and brand owners needed to find new channels for their red meat.
Australia exports almost 75% of its red meat and higher value cuts of meat are mainly consumed through the foodservice sector. So, when COVID‑19 forced a global foodservice shutdown, an oversupply of higher value cuts in Australia needed to be sold to support overall carcase and livestock prices.
MLA reacted quickly to the rapidly changing market, introducing short‑term financial support measures through the CoMarketing Program to help brand owners find new avenues for high value red meat cuts.
Participants received 75% co‑contribution for investment in COVID‑19 eligible activities implemented from March–July 2020, which aimed to boost sales of high value cuts, such as developing direct‑to‑consumer promotions or developing online sales platforms.
Here, red meat brand owners share how they used the COVID‑19 CoMarketing funds to grow demand for red meat during the pandemic.
Western Queensland beef producers Dan and Karen Penfold, along with their daughters, Bonnie, Molly, Jemima and Matilda, established the appropriately named 'Four Daughters' in 2019.
Four Daughters is a 150‑day grainfed black Angus beef brand for the Chinese market. They export directly to a meat wholesaler in Wuhan, China, which services retail and foodservice sectors.
The Penfold family have grown their business from processing 50 head/month to 150 head/month.
How was your business impacted by COVID‑19?
We were exporting Four Daughters beef directly to Wuhan – the global COVID‑19 epicentre – so our business came to a grinding halt.
Overnight we went from turning over $500,000/month down to $50,000. We had 900 head of cattle in a six‑month program to meet the supply contract but no export market.
Then our meat processor in Casino, NSW, was suspended from exporting meat to China. We weren't able to secure another processor so, as demand in China eventually came back, we couldn't meet the supply requirements.
This forced us to look at how we could market our beef domestically and sell directly to consumers.
How did you use the COVID‑19 CoMarketing support?
MLA's support was a lifesaver as it helped fund the design of product packaging so it was suitable for the domestic market and update our website to allow customers to order online.
What were the results?
We're now processing 12–15 head/month at a domestic processing facility and delivering 150–200 beef boxes a month to homes across south‑east Queensland. We also have our beef on the shelves in one supermarket and hope to expand this.
How will your business be different moving forward?
We've scaled back the feeding program for our branded beef but we're still talking to other buyers across the globe. Our focus is on brand‑building and looking at opportunities to expand our branded beef model domestically.
Lessons learned
Build your brand domestically and internationally.
Diversify your markets rather than relying on one export market.
Develop networks with organisations that can provide support.


https://www.mla.com.au/news-and-events/industry-news/building-an-adaptable-brand/