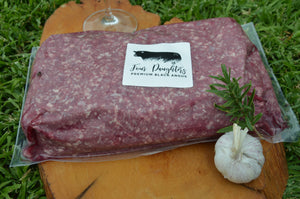 Premium Mince $14/pk special Box Order Price! - (July 14th, 15th, 16th Delivery)
Regular price
$14.00
Sale price
$18.00
$14/kg SPECIAL. Approx 1kg per pack.
Minced fresh for your order. Our grain fed premium black angus mince is unlike anything you've tasted before. Limited Availability.
Our mince is 100% beef with absolutely nothing added, just pure beef!
HOW TO ORDER
This product is only available exclusively to our Pink Box Customers. Actual weight varies per pack, and final price based on per kg weight and is charged on pick up from the Truck.