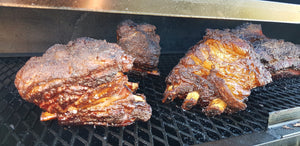 Beef Ribs - $19/kg (approx 1kg packs) - (July 14th, 15th, 16th Delivery)
$19 per kg. Approx 1kg packs - Charged at Pick up.
Premium & delicious beef ribs. Best cooked low and slow until the rich, deeply flavoured meat falls from the bone! A great all-season beef enthusiast's option.
HOW TO ORDER
This product is only available exclusively to our Pink Box Customers. Actual weight varies per pack, and final price based on per kg weight and is charged on pick up from the Truck.